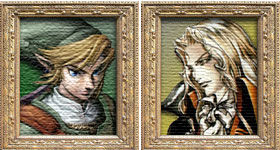 Wednesday, February 17th, 2010
Poll 3794
Division
Hyrule Division
Match #
65
Match Date
Wednesday, February 17th, 2010
Vote difference
26,139
Oracle
Expectations
Link - 71.71%
94 for - 0 against
GameFAQs
Prediction
Link - 90.89%

Only two things were notable about this match, and one was the match picture. For I believe the first time ever, a filter was put in front of a picture to give a more defined overall theme than "oh hi face shots now". The idea here was an actual picture frame, like what you'd see on a mantle. It was a decent idea, but the filter kinda wrecked a lot of pictures in round 2. The Sephiroth/Vincent match was the biggest example of this.
The other point was the match itself. Link's odd performance against Thrall could be seen as first match hijinx, but twice in a row is more than an accident. As of this match, Link was officially dealing with anti-voting for perhaps the first time ever. People are just sick of him winning all the time, and what's funny is he started at 69%, got up to 73% really fast and then dropped all the way down to 71% overnight. One would assume he'd crush Alucard with the morning vote, but he didn't really do that. The anti-voting didn't affect Link winning this contest, but anti-voting can build up quickly over the course of a couple years. Just ask Cloud and Sephiroth.
• Previous Match       • Next Match
Community content is available under
CC-BY-SA
unless otherwise noted.