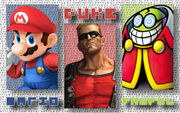 Round One

Thursday, August 8th, 2013
This was a standard boring 1 seed beatdown, but this would have been fun before Duke Nukem Forever happened. Maybe. It's hard to really care about whether or not Mario LFFs Fawful enough to the level of whether or not Duke Nukem could win, especially in the midts of the most boring three match stretch of the entire contest.
And that made Mario's round 2 wtf upset at the hands of Vivi all the more shocking. There was no indication whatsoever that Mario could have possibly lost. This looked like another easy 1 seed smash through unchallenged for a long time type of matches, but it wasn't. Somehow.
Zen's (Late) AnalysisEdit
I'd argue that Duke was once a beneficiary of the Martyr Factor, and the longer it took for Forever to come out the stronger he looked. In 2008 Duke managed to get to Round 3, which is pretty respectable, right?
Then Duke Nukem Forever actually came out. As I mentioned earlier, Duke Nukem Forever was only released by Gearbox to make some quick money. They bought whatever 3D Realms had made (three failed iterations of the game that had been scrapped) and stitched it all together really quick, then packaged and released it with some really tacky junk and tried to sell as many Collector's Editions as possible.
And it worked, kinda. I bought the shit. One of the worst purchases I have ever made. I think the CE was like $80?? It came with "playing cards" (they were the size of my thumb), dice, two poker chips, postcards(??) and a bust of Duke.
I still have the bust. I realized it shared a mould with my Duke action figure. Like, they took the mould of the action figure, blew it up, made it gray, took the arms and shit off, and it became a "bust." Fuck, I'm an idiot for buying into it.
Now Duke will most likely be worthless in contests. He has a movie in the works starring John Cena, but knowing how these things usually pan out it probably won't see the light of day.
Fawful made a second appearance here, and he was just happy to be on the front page again (probably for the last time). This match wasn't meant for anything more than seeing if Mario was strong enough to get to at least the semifinals, where he would either meet with Samus and Mega Man or Samus and Charizard. There was also talk of him getting into a match with Squall and Red, and Squall finally getting his time in the sun and riding Red LFF to victory. Yeah, sorry Leon.
Nobody knew he would get knocked out in Round 2, especially after this performance.
Community content is available under
CC-BY-SA
unless otherwise noted.