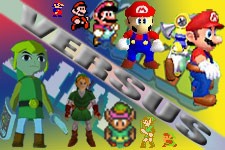 Sunday, September 1st, 2002
Poll 1002
Round
Final
Match #
63
Match Date
Sunday, September 1st, 2002
Vote difference
24,619
GameFAQs
Prediction
Link - 12.77%
(2,140 brackets)
An amazing contest came to a close with about as boring a final as you could have. It was all Nintendo before our board was ever pro Nintendo in the first place. Even worse is the fact that Link confirmed what many figured out long before this match took place. On GameFAQs, he is Nintendo's #1 character. Mario had little chance despite being the favored character in the contest, and the final was a testament to this. Link was virtually unstoppable in 2002, though it would have been nicer to see him have a more difficult path. His only difficult match was against Sephiroth; Mario had barely any chance whatsoever on GF.
The shocking thing here was the prediction percentage. I know it was the first contest, but for Link to come out of left field for this many people is quite a surprise.
• Previous Match       • No Next Match
Community content is available under
CC-BY-SA
unless otherwise noted.