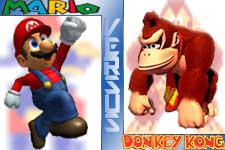 Sunday, August 18th, 2002
Poll 988
Division
North Division Semi Final
Match #
49
Match Date
Sunday, August 18th, 2002
Vote difference
40,826
GameFAQs
Prediction
Mario - 72.52%
(12,158 brackets)
After two rounds, Cloud had a clear advantage over Mario. His vote totals were better, his draw was better, and it looked like Mario was in for the fight of his life come the Northern Finals. It was time for Mario to stop making losers look good, to pull his head out of his ass, and to make a statement.
And make a statement he did. Mario took his first-ever villain and showed him who was truly the boss. Donkey Kong never really had a chance to win this match, especially considering how badly he struggled with Aya Brea, but being to look like such a fool was a different story altogether. Mario was back as a contest elite, and it would take Cloud's absolute best game to bring him down at this point.
Then again, was this really the case? After the Mario/DK match, a new term started getting thrown around a few places; a term we now universally refer to as SFF, the Same Fanbase Factor. If two characters are so closely linked together, such as Mario and Donkey Kong, wouldn't it make sense for the winner's popularity to directly syphon from the losers? It's difficult to imagine two linked characters having separate fanbases to the point of strength being close enough to warrant concern.
However, despite SFF being universally accepted today, it was but a small theory back in 2002. It wasn't until much later did SFF become a board staple, and it was treated like the fledgling theory that it was back then. It was fun to pass off Mario's newfound strength by some voodoo acronym, but it made more sense at the time to give him the respect that he deserves. Cloud may have proven himself superior through two rounds, but Mario was very much back in the thick of things after his killing of Donkey Kong.
And believe you me, everyone knew it. The hype for this match exceeded anything that most of you have ever seen on this board. No hype generated since the 2003 contest can even compare to what was going on on this board leading up to the Mario/Cloud affair.
Community content is available under
CC-BY-SA
unless otherwise noted.