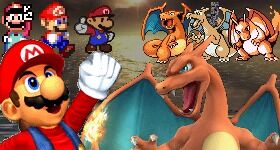 Wednesday, March 17th, 2010
Poll 3851
Round
Contest Quarterfinal
Match #
122
Match Date
Wednesday, March 17th, 2010
Vote difference
5,556
Oracle
Expectations
Mario - 58.43%
69 for - 3 against
GameFAQs
Prediction
Mario - 48.45%

A visible bandwagon formed for Charizard mid-contest, and when paired with HGSS allowed him to win the Heart division in stunning, convincing fashion. But against FREAKING MARIO, surely his time was done and he'd be lucky to break 40%.
Well, not exactly. Pokemon has long since proven it doesn't really get SFFd anymore, and this match probably hammers that point home best of all. The Zard was never in it to win it beyond the first couple minutes of the board vote, but getting 46.4% on Mario in a day match is no joke. Mario was actually over 54% at one point, but THE ZARD beasted all over Mario's percentage come Pokemon ASV time. Yes he lost fairly easily, but this match was about more than winning or losing. We all knew FREAKING MARIO was going to win. But even in a losing effort, THE ZARD helped Pokemon go out as the star of this contest.
We all know how good Pokemon was, but borrowing from charmander6000's stats probably tells the story best:
Top 10 Most Popular Night Polls
1. Sephiroth vs. Missingno – 66731
2. Link vs. Thrall (R1) – 60599
3. Link vs. Alucard (R2) – 59971
4. Cloud Strife vs. Samus Aran (R5) – 59334
5. Pokemon Trainer Red vs. Revolver Ocelot (R1) – 58208
6. Link vs. Luigi (R4) – 57731
7. Mario vs. Big Boss (R2) – 57211
8. Cloud Strife vs. Chris Redfield (R2) – 56563
9. Charizard vs. Duke Nukem (R1) – 56465
10. Leon Kennedy vs. Vault Boy (R1) – 55924

Top 10 Most Popular Day Polls
1. Missingno vs. Crono (R1) – 91081
2. Solid Snake vs. Sephiroth (R5) – 86776
3. Charizard vs. Bowser (R4) – 83524
4. Cloud Strife vs. Ryu (R4) – 82222
5. Charizard vs. Kratos (R2) – 82168
6. Charizard vs. L-Block (R3) – 81553
7. Mega Man X vs. Captain John Price (R1) – 81068
8. Pikachu vs. Commander Shepard (R2) – 80790
9. Sephiroth vs. Tifa Lockheart (R4) – 80421
10. Amaterasu vs. Shadow the Hedgehog (R1) – 79846

Pokemon is nearly half the list.
• Previous Match       • Next Match
Community content is available under
CC-BY-SA
unless otherwise noted.