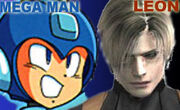 Saturday, September 3rd, 2005
Poll 2112
Round
20XX Division Semi Final
Match #
47
Match Date
Saturday, September 3rd, 2005
Vote difference
27,237
Oracle
Expectations
Mega Man - 71.01%
80 for - 0 against
GameFAQs
Prediction
Mega Man - 72.40%
(24,466 brackets)
Who the...? What the...?
Not only did Leon Kennedy go out and do better than what Jill 2004 would be expected to do, he did so by a whopping 8%. If that isn't proof that Jill was completely screwed by the 2004 stats, I don't know what is.
Granted I'm writing the conclusion before the hypothesis, but come on, this match was consistent. And consistency in a contest match = boring. The only thing of any note in the match itself is that Mega Man began the poll over 70%, then slowly fell to hovering over the 64% level. For the entire second half of the match, Mega Man stayed between 64.53% and 64.7%. There isn't a whole heck of a lot to dissect with those numbers other than Leon doing better than many people expected him to.
Though given how sporadic Resident Evil characters tend to be, who knows what's going on with Leon. He will likely wind up staying consistent due to being in the most critically acclaimed Resident Evil of all time (and he'll be getting onto the Playstation 2 very soon), but it wouldn't surprise me in the least if he went up against a character next year that he'd be expected to crush, yet choke. RE characters do that from time to time.
And because Black Turtle demands it, Gordon Freeman would be expected to score 29.36% on Mega Man based upon this match as opposed to 13.18% based upon the 2002 stats.
Match Trends
Edit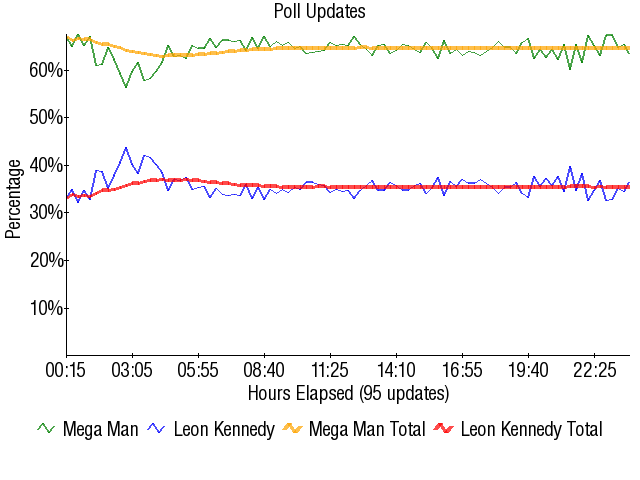 External Links
Edit
Community content is available under
CC-BY-SA
unless otherwise noted.