Thursday, March 18th, 2010
Poll 3852
Round
Contest Quarterfinal
Match #
123
Match Date
Thursday, March 18th, 2010
Vote difference
3,336
Oracle
Expectations
Cloud - 55.70%
70 for - 3 against
GameFAQs
Prediction
Cloud - 63.80%

Samus had legitimate hype coming into this match given four straight godkiller performances, but few actually believed she would win a 12 hour night match against Cloud. Much of the hype was the in-jest hopeful type, although Samus really did make a case going into this.
Come match time, the beginning is about what you'd expect. Samus won the board vote and jumped out to a lead of 100 against the FF7 character. Like Missingno before her, the lack of a total slayer board vote surely spelled Samus's doom later, but at least we could have fun for a little while.
Cloud went and erased the 100 vote lead over the next few updates, and from this point he normally takes off, dominates overnight and shakes off the early troubles. Yet after Cloud evened the match, Samus shot back up again.
So Cloud fought back. Before long, he took the lead and again looked to dominate overnight. But yet again, Samus refused to let the match go and took the lead back. This little dance continued until well past 3 a.m., with neither character doing anything and the match basically being even. But just as hope set in on Samus pulling off an insane upset, the Total Domination Zone set in and Cloud finally put the match away. Anti-climactic ending, but at least it was a fun first three hours.
What's funny is this exact scenario happened in 2004, and we all assumed Samus finishing over 40% was amazing for her. But in 2010, she held on for dear life and stayed over 47% (likely falls below 46% or so in a 24 hour match). Maybe in a few years, she can win this match outright.
Match Trends
Edit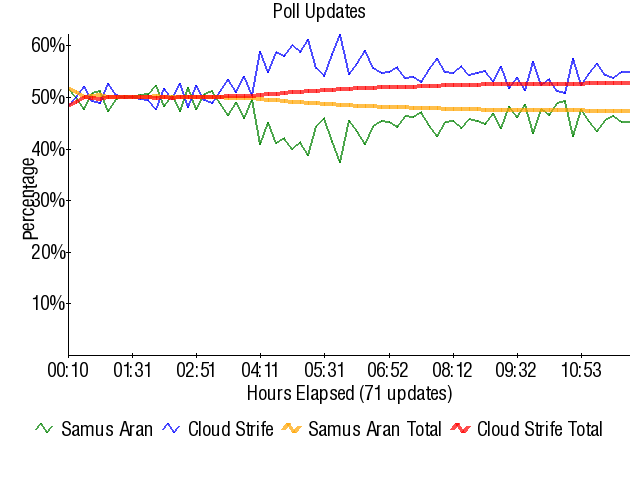 External Links
Edit
• Previous Match       • Next Match
Community content is available under
CC-BY-SA
unless otherwise noted.