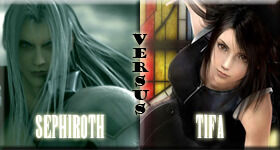 Tuesday, March 16th, 2010
Poll 3849
Round
Jenova Division Final
Match #
120
Match Date
Tuesday, March 16th, 2010
Vote difference
9,915
Oracle
Expectations
Sephiroth - 63.17%
77 for - 0 against
GameFAQs
Prediction
Sephiroth - 64.01%

This is pretty much the worst match Sephiroth has ever had, including losing to Snake this year. Any other odd match from him or multi-poll loss can be blamed on shenanigans or Cloud SFFing him while someone else snuck by for second place or something.
Not this match. Failing to pummel Vincent with the SFF hammer was acceptable enough, since Square SFF is rather difficult anyway. And even then, 63-37 wasn't that bad because Vincent is perennially a near-elite.
But this.... this was just embarrassing in every conceivable way. Taking the math literally, Vincent only scores 43.58% on Tifa. That's just a ridiculous pre-SFF percentage for two characters that might be dead even. Sephiroth just sucked here, no two ways about it. He was a prime anti-vote target before the Missingno win ever happened, and then afterwards he became this.... thing.
Whatever that is, it surely wasn't Sephiroth. Sephiroth wouldn't only be winning by 15 votes against Tifa after 10 minutes. No, this was Sephiroth against Tifa and "Not Sephiroth", with the latter receiving fresh power from angry Missingno fans. Even after Seph recovered and put the match away, he only ended up with 56%, putting the aforementioned Tifa/Vincent percentage at an insane 56.5-43.5%.
This pretty much made it official: Sephiroth was not beating Snake. The match in doubt would be the Samus/Cloud winner against Snake.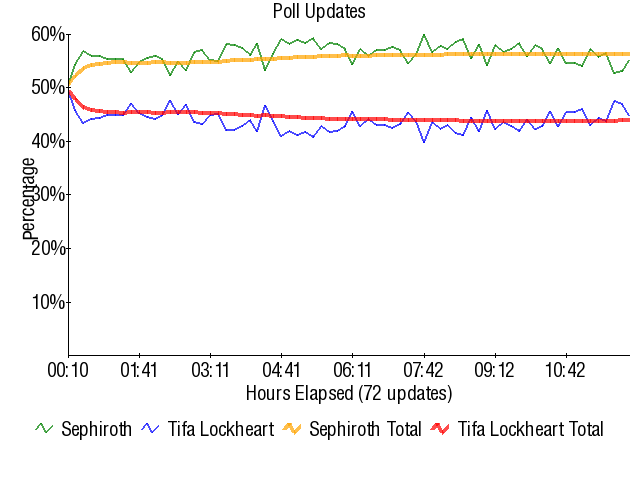 • Previous Match       • Next Match
Community content is available under
CC-BY-SA
unless otherwise noted.