Saturday, February 13th, 2010
Poll 3786
Division
Jenova Division
Match #
57
Match Date
Saturday, February 13th, 2010
Vote difference
23,860
Oracle
Expectations
Sephiroth - 71.77%
101 for - 0 against
GameFAQs
Prediction
Sephiroth - 93.87%

This match was pretty much Cloud vs Ridley, but with two lesser characters. Sephiroth started out with the standard terrible board vote, then rose overnight to almost the exact same percentage Cloud got.
This is all well and good when comparing Sephiroth to Cloud, but the comparison to make here is between Sephiroth and Solid Snake. Proto Man is assuredly a stronger character than Marth, and Snake got a higher score on Proto Man than Seph got on Marth. Comparing these two 1/16 matches in the first round would be the only time we'd have a round with a fair comparison between the two characters. Sephiroth's path from here ended up being Vincent, Missingno, and Tifa. 2 SFF matches and a bandwagon are awful reads, although Seph would end up doing god-awful in all three.
Basically, it was clear from the start Seph was in serious trouble.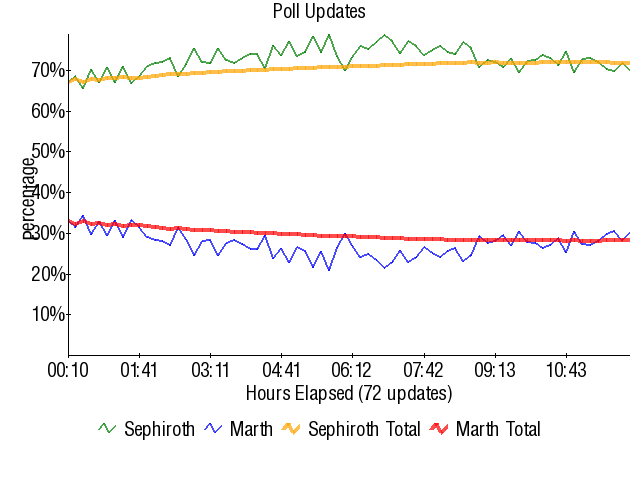 • Previous Match       • Next Match
Community content is available under
CC-BY-SA
unless otherwise noted.