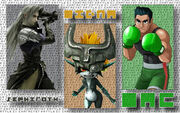 Round One

Wednesday, July 17th, 2013
I've already gone into FF7's decline like 26 times in the first round alone, so instead I'll pull up some funny 2007 stats. 2007's Little Mac projection on Sephiroth? 15.39%. He got 24% here, which is nuts for a character in last place that wasn't even going to benefit from the Sephiroth anti-votes.
The truly funny one is Midna. 2007 has her getting 20%, and here she gets 30. The jump from 15% to 24 is far easier than 20 to 30, especially given Twilight Princess is a post-Wind Waker Zelda that gets mixed reviews.
Yeah Sephiroth won and yeah it was easy, but those numbers can't really be ignored. If we somehow still have contests six years from now, this will only get far worse.
Zen's (Late) AnalysisEdit
I think I remember in 2006 when Twilight Princess came out and Inviso and I discussed Midna's midriff at length. I was 15. This is a very vivid memory I have and I am horrified that I am so comfortable posting about it on this message board. I am friends with some of you on Facebook. I am ashamed.
But not as ashamed as Sephiroth should be of these results, holy shit what an abomination of a match for the former contest champion and member of the Holy Trinity.
It's Midna.
And Little Mac.
This was before Little Mac was even in Smash.
Sephiroth should be quintupling these jobbers. I don't care about low votals. I don't care about anti-votes. Sephiroth couldn't break 60% against two Nintendo C-listers.
Also his match picture is god awful, just this gray anime smear on a gray rectangle over a gray background. Little Mac really popped here. Good job whoever did that.
Community content is available under
CC-BY-SA
unless otherwise noted.