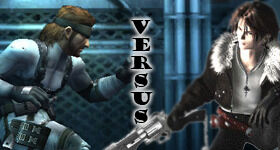 Tuesday, March 16th, 2010
Poll 3848
Round
Gear Division Final
Match #
119
Match Date
Tuesday, March 16th, 2010
Vote difference
10,172
Oracle
Expectations
Solid Snake - 57.59%
77 for - 0 against
GameFAQs
Prediction
Solid Snake - 54.64%

This was our fourth time seeing this match. For reference's sake, the past three:

2002: Snake 65.43% - Squall 34.57%
2006: Snake 57.59% - Squall 42.41%
2007: Snake 58.48% - Squall 41.52% (the L-Block > Snake > Sonic > Squall match)

2002 obviously happened when Squall only had FF8 going for him, so we can throw it out. Squall is a great barometer for how Snake has incrementally increased the past few years, even if two characters facing each other four times kinda sucks.
As you can see, Snake keeps going up little by little. He was actually over 60% for a little while in this match, before the TDZ came and got Squall back over 40% for good. It was the first match all contest where Snake looked good for 12 hours straight, and was the match where it was realized Snake was coming for Sephiroth's head. Then Sephy just collapsed against Tifa and the so-called upset became a mortal lock.
Beyond that, the story here was Squall's seeding. He was the only 2 seed all contest to do what he was supposed to do and make it to round 4. The other 7 of them -- Nathan Drake, Altair, Master Chief, Kratos, Ezio, Dante and Gordon Freeman -- all failed to even get out of the second round. In the third round thanks to this 2 Seed Curse, we had four straight 3 vs 7 matches (and five total), two 14 vs 10 matches and only one 3 vs 2 match.
The biggest irony of this entire contest is outside Squall himself, Kratos was the only properly seeded 2 in the entire bracket.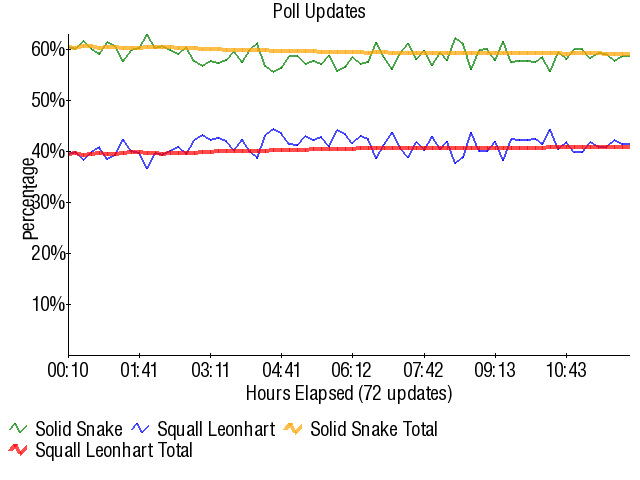 • Previous Match       • Next Match
Community content is available under
CC-BY-SA
unless otherwise noted.