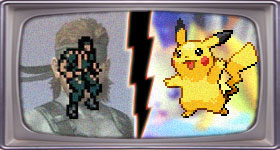 Thursday, March 11th, 2010
Poll 3838
Round
Gear Division Semifinal
Match #
109
Match Date
Thursday, March 11th, 2010
Vote difference
5,342
Oracle
Expectations
Solid Snake - 59.00%
88 for - 0 against
GameFAQs
Prediction
Solid Snake - 69.52%

In the match directly preceding this one, Leon Kennedy went out and did his best impression of Solid shit.
But no. Nonononono, you don't mess with the master. Not only did Solid shit grace us with his.... presence?... but Pikachu had a total godslaying sprite of his own to work with. And for 20 minutes or so, we were given one hell of a match. Pikachu got the early board vote, led by 60 at one point and led by 50 at the freeze. Next update, the lead drops all the way down to 19. Everyone assumed Ekans would stop messing around from here, but he only won the next update by 6 votes. And even more hilarious, the next update after that was a tie. 398-398.
It took Ekans a full 25 minutes to get the lead in this match, but once he did he took off quite nicely. When you consider he was losing for the first 20 minutes of this match, Ekans actually didn't do half bad here in finishing 55-45. He even stomped the morning vote against a Pokemon, as Solid shit. That's no easy task, given Pikachu's sprite pulling off that insane run in 2007 and beating L-Block in 2008.
Match Trends
Edit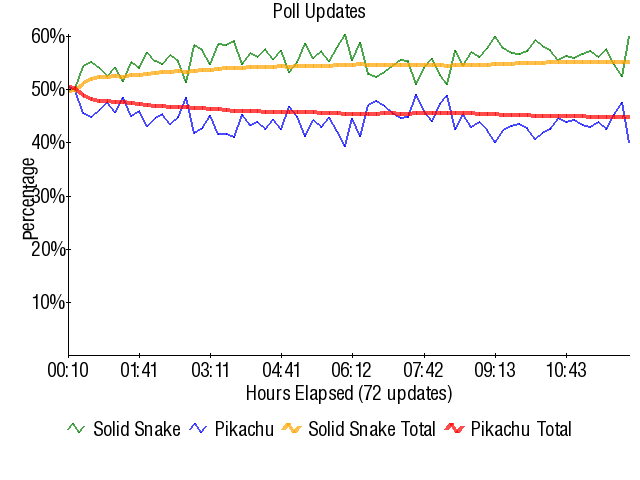 External Links
Edit
• Previous Match       • Next Match
Community content is available under
CC-BY-SA
unless otherwise noted.