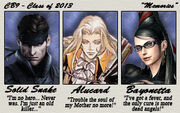 Round 2

Thursday, August 22nd, 2013
For my money, that is Snake's best picture of all. Very dark look without resorting to melty stuff.
Anyway, this was a supremely boring match, but the 1 seeds will often do that in the first few rounds. Snake's dominance here ended up being relevant later though, because once Mario lost to Vivi and everyone started going Chicken Little about the Noble Nine, Snake's dominance here made people think that he was potentially the only Noble Nine character that could make it out of round three. Think about this for a second.
I suppose some debate could have been there about Alucard vs Bayonetta, but it isn't worth talking about because Bayonetta was never getting above last in this one.
Community content is available under
CC-BY-SA
unless otherwise noted.