Monday, March 1st, 2010
Poll 3818
Division
Gear Division
Match #
89
Match Date
Monday, March 1st, 2010
Vote difference
17,132
Oracle
Expectations
Solid Snake - 67.27%
81 for - 0 against
GameFAQs
Prediction
Solid Snake - 83.92%

When did Solid Snake turn into Cloud? This was the second match in a row where his board vote just sucked, but then he shrugged it off and rose to a good percentage. Well, decent percentage. Who really knows what doubling Fox means, since all his losses going back to 2003 can be blamed on Nintendo SFF in one way or another. His last legit loss before this one was getting 25% on Cloud in 2002. So clearly Snake was on pace to get like 40% on Sephiroth, since the 2002 stats are the most reliable thing ever.
On a side note, there were 7 rounds this contest. Solid Snake was in 6 of them. Of those 6, two did not have Brawl Snake in the picture. Seriously people, he's been in other games. And my R6 picture barely even counts, so you can make a good argument Brawl Snake disappeared once all contest. It's almost like people are overcompensating for his years of awful melty art and sprites.
Match Trends
Edit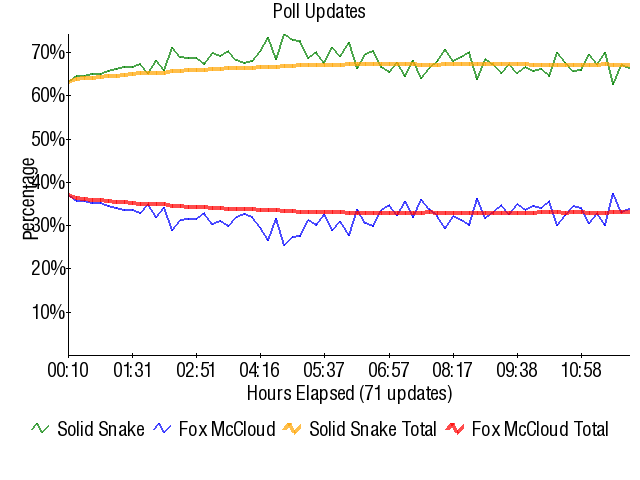 External Links
Edit
• Previous Match       • Next Match
Community content is available under
CC-BY-SA
unless otherwise noted.