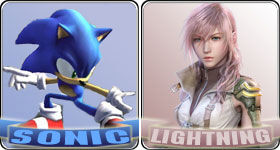 Wednesday, January 20th, 2010
Poll 3738
Division
Chaos Division
Match #
09
Match Date
Wednesday, January 20th, 2010
Vote difference
14,924
Oracle
Expectations
Sonic - 72.27%
114 for - 0 against
GameFAQs
Prediction
Sonic - 85.35%

The reaction to this match was hilarious, and rightfully so. People were expecting good things from Lightning, yes, but not until after the game came out. When this match happened, FF13 wasn't yet released in America. For a good comparison, the consensus Oracle average was Sonic with 72.21%. People figured Sonic, even in a night match would blow the doors off a character whose game wasn't even out yet. Then the match began. Sonic started off a bit slow in the 65% range, but whatever. Weird things can happen early in polls, right?
Then another update came in. Sonic didn't budge. Than another update. Sonic didn't budge. Then another update. Sonic didn't budge AGAIN. People soon realized what was going on: Sonic seems to suck now.
Not only did Sonic not move, his percentage kept going down bit by bit. He dropped below 62% overnight at one point, and "saved face" by increasing a little with the morning vote. He probably gets to a doubling or something in a full 24 hour match, but this was beside the point. It's rare you see a character look so bad in getting nearly 64% in a poll, but Sonic did that today. And the Sonic Team angst was INSANE. All the people clamoring for a potential upset of Sonic in this division at the hands of Ganondorf or Kirby, and why wouldn't they be? Sonic lost the "Nintendo overlap 4way" excuse with this match.
And that was before the Cecil/Knuckles debacle. If you thought Sonic Team looked like crap through this match, it took 12 hours to make it look much, much worse.
• Previous Match       • Next Match
Community content is available under
CC-BY-SA
unless otherwise noted.