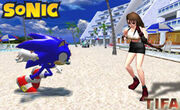 Sunday, September 11th, 2005
Poll 2120
Round
Chaos Division Final
Match #
55
Match Date
Sunday, September 11th, 2005
Vote difference
13,548
Oracle
Expectations
Sonic the Hedgehog - 55.33%
71 for - 2 against
GameFAQs
Prediction
Sonic the Hedgehog - 48.65%
(16,440 brackets)
After Tifa's beatdown of Vyse, this was hyped up to be an interesting match. After Tifa's stumble against Luigi, it was fairly obvious that Tifa wasn't going to be the first character to break the Noble Nine any time soon; though some insisted that using a constant KOS-MOS gave Tifa a good chance.
Because using a constant KOS-MOS makes sense.
For the first hour or so, this match was relatively interesting. Sonic was only able to get a lead of a couple hundred votes, while Tifa was able to win a few small updates every now and then before the vaunted SEGA morning vote blew her the hell away. That's around when the match stopped being interesting, and the only thing to worry about from this point on was how good Sonic looked in preparation for his upcoming duel with Mega Man. Unfortunately, the only character we could really base Sonic's chances off of was Diablo; Jin was new, and Vyse, Tifa, Luigi and KOS-MOS were all erratic.
A big-time match in which we had no real idea who would win, save for those people who like to predict everything based off outdated stats. In a perfect world, every big match would have this much uncertainty going in. Italic text
Match Trends
Edit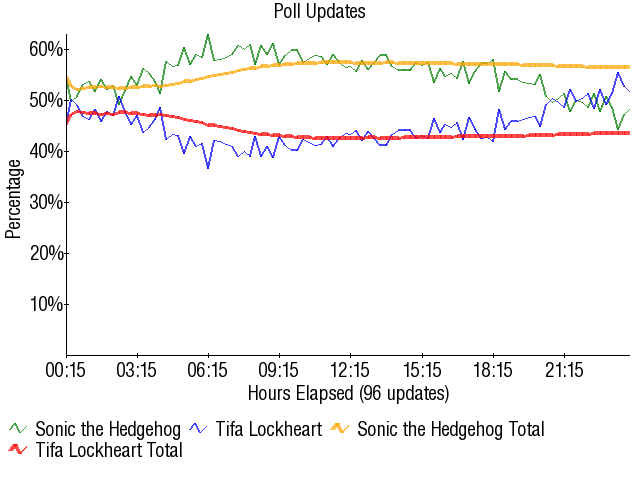 External Links
Edit
Community content is available under
CC-BY-SA
unless otherwise noted.