Wednesday, September 15th, 2004
Poll 1762
Division
Chaos Division
Match #
45
Match Date
Wednesday, September 15th, 2004
Vote difference
8,738
Oracle
Expectations
Sonic the Hedgehog - 57.63%
56 for - 0 against
GameFAQs
Prediction
Sonic the Hedgehog - 72.26%
(24,005 brackets)
After Samus's killing of Lara Croft in the first round, Sonic not only had to beat Ryu, but he had to make a statement to show Samus that he had a chance at taking the division. Unfrotunately, Sonic failed to do so. In the beginning of the poll, Ryu held his own and went 50-50 with Sonic for quite while before Sonic finally managed to pull away for good. Ryu never had much of a chance of winning the match, but he had a moral victory here nonetheless. His performance in this match, even though he performed exactly as expected according to 2003 numbers, more or less showed that Samus had the division wrapped up. This match showed that Sonic had more or less remained consistent, but consistency is not enough to take down a Samus that is on an obvious rise.
As for the actual match itself, the one thing I found interesting was the horribly low prediction percentage. Sonic was 2 seed material at worst, yet only 72.26% of people had him into the third round? Aside from that, another predictable match in a predictable contest.
Match Trends
Edit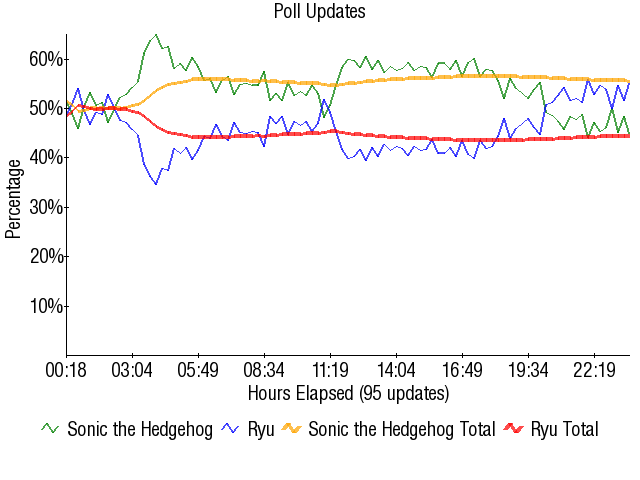 External Links
Edit
Community content is available under
CC-BY-SA
unless otherwise noted.