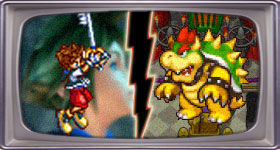 Monday, March 8th, 2010
Poll 3832
Round
Heart Division Semifinal
Match #
103
Match Date
Monday, March 8th, 2010
Vote difference
4,874
Oracle
Expectations
Bowser - 50.20%
48 for - 39 against
GameFAQs
Prediction
Bowser - 25.47%

Every contest has a division that just wrecks everyone's entry, and the Heart division took the cake as guru-buster this year. Bowser upsetting Sora was the first of three straight matches that would wreck brackets, and what's funny is Bowser pulling this off was almost a foregone conclusion once the first two rounds were finished. Sora looked like utter crap, while Bowser looked pretty much like his old self. Not villain-steroids Bowser who broke 40% on Sephiroth, but still more than good enough to beat Sora.
Maybe Kingdom Hearts got unlucky with having so many night matches this contest, concluding with Sora's deathblow at the hands of Bowser here, but when you really look into the numbers the ASV wouldn't have mattered. None of KH's four losses were close enough for an ASV to matter much, and Captain Falcon beat Riku during the day. Sora and company need Kingdom Hearts 3 ASAP, or they might continue a rapid downward spiral. One could make a very good case Sora is the least deserving 1 seed we've ever had in a character contest. To get rolled over like this in a debatable match is pathetic, especially to the level of the vaunted Kingdom Hearts ASV being rendered irrelevant.
• Previous Match       • Next Match
Community content is available under
CC-BY-SA
unless otherwise noted.