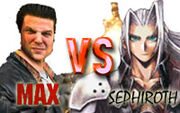 Wednesday, August 13th, 2003
Poll 1348
Division
South Division
Match #
44
Match Date
Wednesday, August 13th, 2003
Vote difference
70,809
Oracle
Expectations
Sephiroth - 83.53%
55 for - 0 against
GameFAQs
Prediction
Sephiroth - 84.23%
(34,582 brackets)
It's pretty sad if you're Max Payne and the only thing to talk about during one of your matches is how it looks like you're taking a crap in the match pic.
Max Payne began this match by getting his ass whipped, never looked back, and everyone watching fully expected this to happen. There's not much else to say, save that it's interesting that Raziel did better than Max against Sephy, as well as the fact that Strider having not seen a contest since 2002 really sucks. Granted he's probably not actually stronger than Max Payne, Gordon Freeman or Raziel anymore, but it's worth a second appearance for confirmation.
It should be noted however that Sephiroth is lucky that Gordon Freeman did not defeat Max Payne, as he would have failed to break 60% in the match and his image would have been tarnished forever from that point forth.
On that note, the Mario/Crono/Sephy trio was finally set into place, save for the little matter of Seph having to get through Alucard first. And believe it or not, people still felt that Sephy would be able to take down Mario with ease, but would have issues with Crono. And given that a lot of people felt that Crono was going to defeat Mario, there were multiple topics from people wishing they had picked Crono to go a bit further.
External Links
Edit
Community content is available under
CC-BY-SA
unless otherwise noted.