Tuesday, March 2nd, 2010
Poll 3821
Division
Gear Division
Match #
92
Match Date
Tuesday, March 2nd, 2010
Vote difference
20,505
Oracle
Expectations
Squall - 69.89%
89 for - 0 against
GameFAQs
Prediction
Squall - 66.95%

Maybe Squall > Auron wasn't a lock, after all. Never before has a near-doubling looked so terrible.
Dissidia Boost or not, this is the same chick who got 28.5% on Dante in 2005. The same character who failed to break 60% on Kerrigan (you know, of "LET'S HYPE KERRIGAN > VINCENT AND WATCH KERRIGAN SCORE 21%" fame?) in 2006 before getting 80-20'd by Zelda.
Furthermore, this was Squall. Had Sonic not been announced for Brawl, Squall would have beaten him in fourways twice. The same guy who beat Luigi, almost beat Vincent, and most importantly, the same guy who SFFd Tidus into the ground in 2006. He's wrecked lesser Final Fantasy characters before.
Yet here we are, in 2010, and Squall fails to even double Terra. He was actually barely above 60% in this poll before a time, before um.... "saving face" overnight and getting his percentage up a bit. It's not like there was some huge pic disparity, either. Terra looks god-awful there.
Do you realize if you take this match literally, Terra scores 60.5% on Tidus?
...wait a sec
(7)Tidus vs (10)Terra Branford, let's do this. Tidus could probably find a way to pull off that choke job.
Match Trends
Edit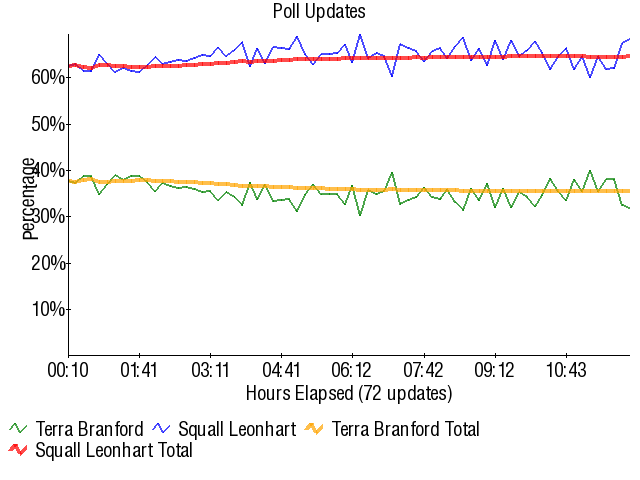 External Links
Edit
• Previous Match       • Next Match
Community content is available under
CC-BY-SA
unless otherwise noted.