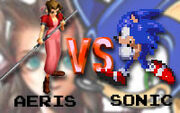 Saturday, August 23rd, 2003
Poll 1356
Division
East Division Semi Final
Match #
52
Match Date
Saturday, August 23rd, 2003
Vote difference
6,460
Oracle
Expectations
Sonic - 57.02%
49 for - 2 against
GameFAQs
Prediction
Sonic - 33.76%
(13,860 brackets)
It was clear that Sonic was a bit off in Summer 2003, but only 33.76% of people had him winning three matches? That seems beyond strange, because it made this match the third-biggest upset to date in the contest. Only Magus > Ganon and Ryu > Dante tore up more brackets than this battle did, and if this wasn't an indication that Sonic lost a step after Summer 2002, I don't know what is.
The prediction percentage wasn't the only bad thing to happen to Sonic in this match, either. In his previous match, Sonic went from being close to 60-40 on Zero before his percentage collapsed throughout the rest of the match. Against Aeris, he once again was close to 60-40 at the beginning of the poll -- only this time, Sonic didn't bother waiting for a percentage collapse. Aeris pulled Sonic under 54.5% with the second update, and spent the next 23.5 hours taking off another 1.5% from the blue blur.
Sonic not doing so hot against Aeris wasn't nearly as unforgivable as his collapse against Zero was (Welcome to FF7FAQs!), but it was a tell-tale sign that he wasn't coming anywhere near Cloud in a few days. If Aeris came within 6500 votes, then one could only imagine what FF7's posterboy would do Sonic afterwards. This match wasn't quite the disaster that Sonic/Zero was, but it was still proof that Sonic was done for in this contest.
On a different note, this was the last time we ever saw Aeris in a poll. For whatever reason she hasn't had nomination support since Summer 2003, despite being an 11 seed in two straight contests and winning her fourpack both times out. And when one paired this match up with Cloud/Bowser, Final Fantasy 7 being stronger than ever began to come into focus. Not that most people considered the prospects of Cloud beating Link (yet), of course, but all three FF7 characters had kicked ass in every match they appeared in. On the funnier side of things, even with Aeris performing so well, Zero performed better than she did. Ouch.
External Links
Edit
Community content is available under
CC-BY-SA
unless otherwise noted.