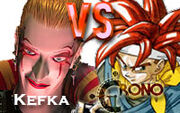 Monday, August 11th, 2003
Poll 1346
Division
South Division
Match #
42
Match Date
Monday, August 11th, 2003
Vote difference
58,626
Oracle
Expectations
Crono - 68.19%
51 for - 2 against
GameFAQs
Prediction
Crono - 60.93%
(25,018 brackets)
People expected Kefka to get rocked after he was barely able to beat Pac Man (and he was lucky as hell to win that match, quite frankly), but most didn't expect his beating to be quite this bad. Remember, Kefka/Crono was a massively debated battle before this contest started. However anyone with any sense knew that Kefka stood no chance after first round events, and Crono blowing him out wasn't exactly a surprise.
The only real surprise (aside from Crono's 79999 votes.. how awesome is that?) was the arguments that happened during this match. SFF wasn't vastly mainstream at the time, and many argued that this wasn't an SFF affair. I can't remember too many blowouts that generated more arguing than this one, though in fairness I didn't bother believing that this was an SFF match until Kefka/Knuckles. For myself and others it was a little more difficult believing in Square SFF at the time due to each game having its own fanbase. For Nintendo characters, SFF is easier due to the widespread appeal.
Though all of this was minor compared to what this match set up: Mario versus Crono, the Rematch. And this time, Crono was coming in with a full head of steam while Mario was struggling. You can imagine the hype, especially from those hoping for the upset.
External Links
Edit
Community content is available under
CC-BY-SA
unless otherwise noted.