Tuesday, March 9th, 2010
Poll 3835
Round
Varia Division Semifinal
Match #
106
Match Date
Tuesday, March 9th, 2010
Vote difference
14,556
Oracle
Expectations
Zelda - 62.47%
88 for - 1 against
GameFAQs
Prediction
Zelda - 46.34%

Even though Jecht won two matches, he was a real oddball character in this contest. He upset Phoenix Wright, but not in very convincing fashion. Then in round 2, he lets Ratchet of all people get 44% on him including a morning vote choke job. Ratchet, the guy whose been nothing but fodder for years.
So naturally, in standard Winter 2010 fashion, he throws one final curveball before bowing out. The Ratchet performance suggested Jecht would get totally rolled on in this match; remember, it was a day match against Zelda when Jecht lost the morning vote horribly twice. So what does he do? After starting off slowly, he fights his way above 40% after an hour or so.
Well no problem, Zelda has a killer ASV. But when the ASV showed up, nothing happened. Jecht stayed above 40% for the rest of the match, save for a tiny little while in the evening. It was a total oddity of a match, and Final Fantasy 13 being released the day of this match assuredly had something to do with Jecht inexplicably doing this well.
Match Trends
Edit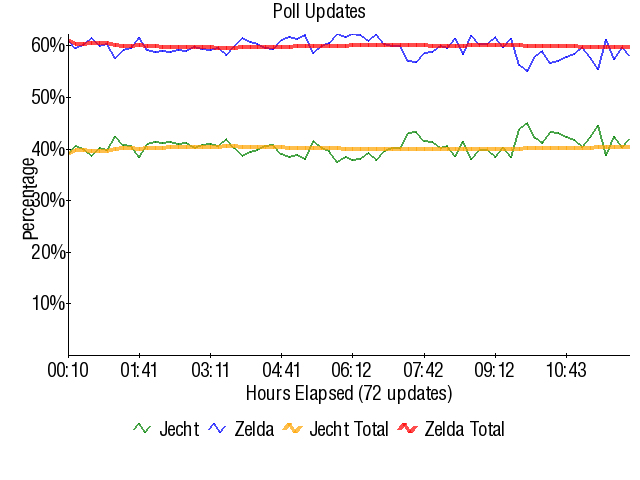 External Links
Edit
• Previous Match       • Next Match
Community content is available under
CC-BY-SA
unless otherwise noted.