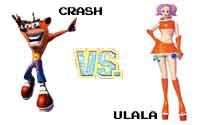 Thursday, August 1st, 2002
Poll 971
Division
West Division
Match #
32
Match Date
Thursday, August 1st, 2002
Vote difference
15,194
GameFAQs
Prediction
Crash - 81.34%
(13,636 brackets)
It was clear before this match even begun that Crash and Sephiroth's seedings were backwards in their respective four pack. Sephiroth performed at an elite level against Gabe Logan, while Crash Bandicoot's odds of winning alone were more than enough to suggest that his seeding, much like Lara and Pac Man's, was given to him on a status basis.
Case in point, look at how Crash performed in this match. He let Ulala break 35% on him.
Who?
Exactly.
Considering Crash's final numbers against Ulala, it's somewhat clear that he had little to no chance of taking down Sephiroth, and that the seeding between the two was backwards. Crash may have won this match with very relative ease, but he lost the war in that his contest was pretty much over after this point.
Community content is available under
CC-BY-SA
unless otherwise noted.