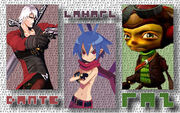 Round One


Saturday, July 27th, 2013
Given the entire debate surrounding this match was whether or not Dante could perform well enough to beat Squirtle in round 2, it was hard to really judge this match. See, Dante has scored round 1 blowouts before choking in round 2 before, except for the one time he got lucky and had to face Tails. 70% on Q*Bert. 77% on Ryo Hazuki. 80% on Ratchet. 71% on Terra. 65% on Ryu Hayabusa. 70% on Axel.
And now, 70% on Laharl. At this point, for Dante to make me believe he wasn't destined to choke against a strong character in round 2, those round 1 percentages would have to start being in the 90s. Every year, we see Dante perform well in round 1 and think he's fine. And every year, he gets his ass whipped early. This year was especially risky because of the whole DmC Donte nonsense, but at least he has his blowout win on Laharl. Congrats, I guess?
Zen's (Late) AnalysisEdit
iirc I used a Shin Megami Tensei: Nocturne pic for Dante just because I wanted to post it in the Picsmith thread with this under it.
I think I got one person who humored me with a "haha" and then Allen used the pic. Kids, never meme and pic. Although it does look pretty dope.
We were coming off of DmC: Devil May Cry by this point and the wounds were still fresh. I hear that game got reworked a bit on PC and is actually really good, but it was so divisive that I doubt its original band of haters would ever admit that.
But back in 2013, we were all worried that a potential bad pic paired with bad buzz would ruin Dante's chances to beat Squirtle in R2. Again, Pokefear was super real and Dante was the king of letdowns. He's had some good runs, but he also choked to Yoshi and Ryu, lost to Master Chief, and performed like shit against Tails.
So he got 70% on Laharl, but that doesn't mean much if you can't beat Yoshi. It was assumed that Dante would have a rough time and if he beat Squirtle it would only be by a little. Nobody knew how bad Squirtle would expose Dante in R2.
Also, nice to see Raz. Hot damn does he look ugly. He's just a big sack of potatoes getting used as a punching bag. I hear he has a VR game now and my only thoughts on that are "why would you want to get that close to Raz."
This is Laharl's third win, and I think it's a good way for him to end his contest run. He now has the unimpressive heads of Nathan Hale, Neku and Raz mounted on his wall. I don't think he'll ever be more successful than that. Laharl vs Vyse Grudge Match 2018, who ya got?
Community content is available under
CC-BY-SA
unless otherwise noted.