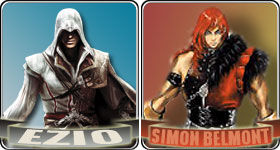 Thursday, February 4th, 2010
Poll 3769
Division
Varia Division
Match #
40
Match Date
Thursday, February 4th, 2010
Vote difference
13,692
Oracle
Expectations
Ezio - 63.94%
106 for - 3 against
GameFAQs
Prediction
Ezio - 47.90%

Alucard's Plan once again came to fruition in this match. The poll was glitched at the start, and Simon Belmont led 8-2 for 15 minutes. Eventually things got underway proper, but Ezio failed to do as expected on Simon for quite awhile. Even after the misspelling in Ezio's name was corrected (it was "Ezio Auditore di Firenze" for awhile) and Ezio blasted off with the ASV to a near 60-40 win, it still wasn't enough. Simon Belmont is one of those characters whose never done anything in these contests dating back to 2002, yet Ezio failed to blow him out. Not only that, but he failed to even be the bracket favorite as a 2 seed against a character that's never won before. Has a 2 seed ever not been the bracket favorite before? This was a thoroughly terrible performance by Ezio, and it shut down all the stupid Ezio > Zelda hype being thrown around.
• Previous Match       • Next Match
Community content is available under
CC-BY-SA
unless otherwise noted.