Sunday, January 31st, 2010
Poll 3761
Division
Heart Division
Match #
32
Match Date
Sunday, January 31st, 2010
Vote difference
16,972
Oracle
Expectations
Kratos - 66.94%
110 for - 0 against
GameFAQs
Prediction
Kratos - 85.60%

Even with Charizard seemingly being a strong character, the ball was still in Kratos's court to prove he was worthy of his 2 seed. This contest had some very bizarre 2 seeds, but most assumed Kratos wasn't one of them. On top of all this, Sonic Team looked like crap so far this contest. All Kratos had to do was annihilate Tails to cement his status as the favorite in the suddenly-debated Charizard/Kratos match.
So in standard Winter 2010 fashion, Kratos disappoints big time. Not only did he struggle to break 60%, he did next to nothing with his trademark day vote. This can somewhat be blamed on Sonic characters also having a good day vote, but this match was an embarrassment no matter how you look at it. When you're heavy favorite and you let TAILS be the only member of Sonic Team to not look like crap, something is wrong. It doesn't take a big knowledge of extrapolated standings to know Charizard's performance on Duke was a *lot* more impressive than Kratos's showing against Tails, and it was clear Kratos was in a bind for round 2.
Fun side note: Despite how well Kratos did in the 4ways, this match against Tails is his only 1v1 win. Ever. And he sucked doing it. LOL 4ways.
Match Trends
Edit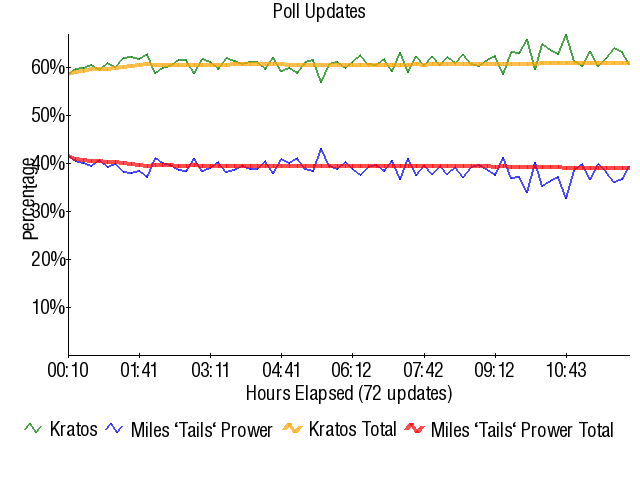 External Links
Edit
• Previous Match       • Next Match
Community content is available under
CC-BY-SA
unless otherwise noted.