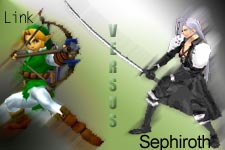 Saturday, August 31st, 2002
Poll 1001
Round
Semifinal
Match #
62
Match Date
Saturday, August 31st, 2002
Vote difference
13,676
GameFAQs
Prediction
Link - 30.63%
(5,135 brackets)
As hyped as this match was, one could essentially have called it in Link's favor after Sephiroth's struggle with Samus. If Sephiroth had such a large problem with arguably only Nintendo's third strongest character, then how was he supposed to take down Link himself? Sephiroth defenders tried arguing that this would be another Mario/Cloud affair, but it would be nothing of the sort. Link began the match on fire, and proceeded to lay the hammer down on Sephiroth's ass all the way until the end of the poll. The only thing Sephiroth had going for him in the match was his match picture.
Link essentially won the contest with this match, and it was unfortunate for yours truly. Link is the one character whose matches are all easy to analyse. Link is a monster, barely anyone can lay a hand on him, end of story, time for some pie. Simple as that. Link may have had a weak division, but his beating of Sephiroth this soundly simply couldn't be ignored.
Community content is available under
CC-BY-SA
unless otherwise noted.