Tuesday, May 10th, 2005
Poll 1996
Division
Jenova Division
Match #
08
Match Date
Tuesday, May 10th, 2005
Vote difference
43,853
Oracle
Expectations
Liquid Snake - 71.76%
87 for - 0 against
GameFAQs
Prediction
Liquid Snake - 87.08%
(21,551 brackets)
In the Summer 2004 Contest, few new characters made as good a showing as Liquid Snake. His only match was a loss, but he left an everlasting impression on everyone who remembers the Summer 2004 Contest well. He was an 11 seed, and was stuck facing Frog in the first round. Frog was a heavy board favorite, and managed to jump out to a fast lead of 450 votes. However, Liquid Snake refused to go down quietly and soon managed to stall Frog. He then began coming back, albeit very slowly. However even if Liquid's push was slow, it was constant. Liquid would eventually pull even with Frog in the evening and take part in a duel reminiscent of CT/LTTP before finally falling behind by 200 votes late in the match. Liquid made a valiant effort to come back, but fell just short.
When the stats came out after the Summer 2004 Contest, Liquid Snake was ranked extremely high, perhaps too high. Liquid ranked ahead of even Bowser, and major things were expected out of him in this contest. Unfortunately, he got stuck in the same division as Sephiroth. If Liquid and Ocelot were in opposite places, perhaps the top half of this entire bracket wouldn't have been such a lock. But as it stood, Liquid was a virtual lock to win his fourpack before jobbing to Sephiroth in the Jenova finals. But we're getting ahead of ourselves.
As the match began, you would never be able to guess as the contest progressed; Liquid beat the hell out of Officer Tenpenny far worse than most people expected him to, and for a short while, it looked like Liquid would be able to break 85% on the San Andreas villain. Liquid eventually calmed down a little and fell under 80%, but this doesn't take away from the fact that Liquid managed one of the biggest blowouts of the contest. For all the speculation that Liquid's 2004 value may have been overestimated, he showed no signs of being undeserving in this match at all. ~80% of the vote is no easy task, and even though Liquid was destined to lose to Sephiroth later on, a powerful win is a powerful win nonetheless. There was no indication at all of what would eventually happen to Liquid, and as we watched this match unfold, we began to realize more and more that we needed something exciting to happen...
Match Trends
Edit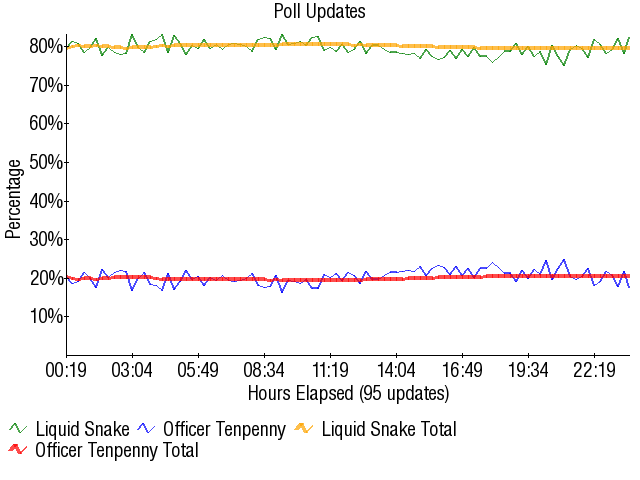 External Links
Edit
Community content is available under
CC-BY-SA
unless otherwise noted.