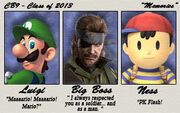 Round 2

Wednesday, August 21st, 2013
Good old awful Metal Gear Solid day votes.
Big Boss was supposed to win this match easily, because he's on par with Luigi in strength without factoring in another Nintendo character leeching away his strength. Add in Ness? This seemed over before it started.
But then the match began, and things were actually close. They stayed that way for hours, and we eventually and slowly came to the realization that this was actually going to be a match. The base momentum seemed to be with Big Boss, because he was the character trying to pull away from the 5 hour tie, while Luigi was seemingly playing catchup the entire time.
That right there is basically what ended the match, because once the day vote ended and the sun started going down, Big Boss turned a tie into a 300 vote win. Had Luigi taken advantage of the bad MGS day vote and shrugged off Ness even a little bit more, this might have been interesting. But as-is, it was one of those close matches where we all knew the trends and all knew what would eventually happen, and then no one was surprised when those trends came true.
Now if we ever have a 1 on 1 contest again, Big Boss and Luigi need a 24 hour match. Nothing was actually settled here because of Ness, and I think it would be really neat. It has the makings of one of those marathon type matches where one character could get a big lead, blow it, and then we get a photo finish late. Then I kind of realize we'll probably never get a 1 on 1 character contest again, which blows to think about.
Zen's (Late) AnalysisEdit
Some people argued for Luigi here, but Big Boss was too close to him in strength so Ness made all the difference. It's interesting that people always come to the board to complain when Luigi wins. People really like the dude, I think there are more Luigi whiners than for any other Mario character.
Luigi had every opportunity to lock this down, he actually performed pretty well when you consider that Ness was here, but as Leon said, LFF doesn't seem to matter as much in 3-ways.
Speaking of Luigi not being able to commit, you have to feel for the dude losing his girl to Wario. now he's dead, the dude can't catch a break
Community content is available under
CC-BY-SA
unless otherwise noted.