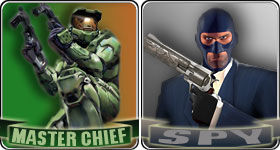 Wednesday, January 27th, 2010
Poll 3753
Division
Mushroom Division
Match #
24
Match Date
Wednesday, January 27th, 2010
Vote difference
15,945
Oracle
Expectations
Master Chief - 66.16%
111 for - 0 against
GameFAQs
Prediction
Master Chief - 91.76%

Ryu Hayabusa had just bombed against Crash, and lost the morning vote. The much-hyped round 2 match against Master Chief was a day match, which made said morning vote ownage all the more significant. All Chief had to do was not flop. He didn't even have to be that good, he just had to not suck.
But this is Master Flop we're talking about. There was a massive rally for Spy on 4chan for this match, but still. Chief floated at almost exactly 60% for the entire match, did almost nothing with the ASV and was thoroughly embarrassed for 12 straight hours. Some 60-40 matches look really good, like Zack > Yuna. Some, like this one, are just god-awful for the winner. Chief didn't even do anything with the ASV, his trademark trump card.
Make no mistake here, Ryu H's performance on Crash was abysmal in every possible way. But leave it to Master Flop to make it not look so bad. Of course when you really think about it, every vote in this poll was a vote for Spy <_<
Master Chief's 91.76% prediction percentage made him the first character since Donkey Kong in 2002 to break 90% prediction percentage and fail to double his opponent.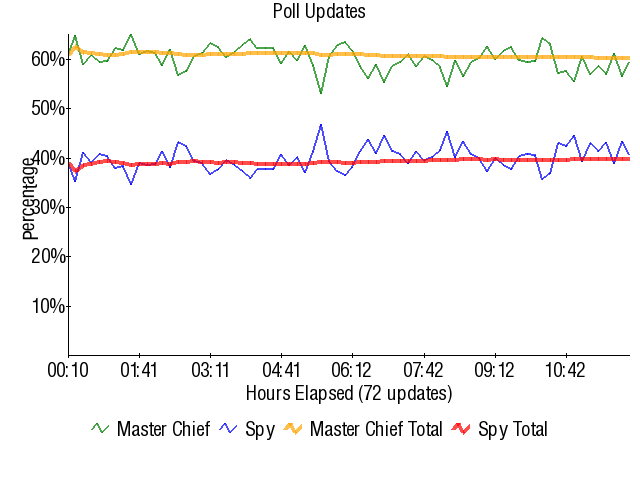 • Previous Match       • Next Match
Community content is available under
CC-BY-SA
unless otherwise noted.