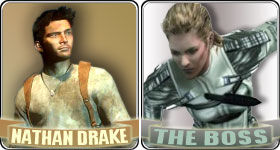 Round One

Saturday, January 16th, 2010
Poll 3737
Division
Hyrule Division
Match #
08
Match Date
Tuesday, January 19th, 2010
Vote difference
3,320
Oracle
Expectations
The Boss - 47.61%
33 for - 82 against
GameFAQs
Prediction
The Boss - 44.82%

Another match best summed with a quote:
From: FFDragon
He lost to CATS.
He lost to CATS.
He lost to CATS.
He lost to CATS.
He lost to CATS.
He lost to CATS.
He lost to CATS.

Thanks to Uncharted 2 being Game of the Year most places, Nathan Drake was no longer considered "the guy that got doubled by CATS" to many people. He was the favorite to win his match, especially given he was against a weak MGS character during a day match. MGS almost always sucks in polls when the sun is out, and The Boss especially has never done anything of note. 60-40 against Celes in the wonky female contest and fighting with Tails for third place in some fourway match doesn't mean anything.
The main logic in Drake's favor is, how would everyone feel about this match if that CATS match never happened? Drake would likely be a massive favorite. As is, he was still the slight favorite going in. Even when the match began and Boss starting inching out with a lead, Drake fans were convinced he'd come back. Even an hour in, when Boss was up by 400, people still discussed an ASV comeback.
This was the first match that bunked old trends. Not only did the ASV comeback never show up, this turned into one of the most boring upsets ever. The match stayed at 52-48 for almost a full 12 hours, with no movement or excitement at all. That's just what you get with Boss matches. She can have an all-day duel with Tails…. but for third place in a fourway poll. That's just how the true patriot rolls in these things; painfully consistent.
What sucks for Drake is he did get a massive boost from Uncharted 2 to make himself respectable. It was just not quite enough.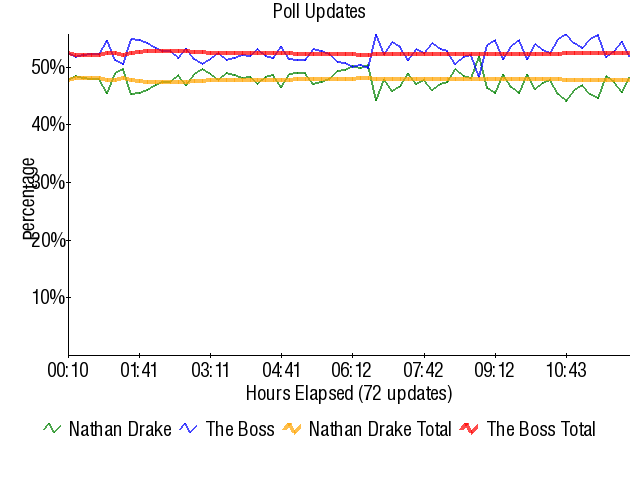 • Previous Match       • Next Match
Community content is available under
CC-BY-SA
unless otherwise noted.