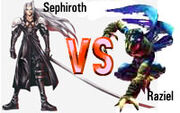 Thursday, July 24th, 2003
Poll 1328
Division
South Division
Match #
24
Match Date
Thursday, July 24th, 2003
Vote difference
70,526
GameFAQs
Prediction
Sephiroth - 93.91%
(38,560 brackets)
In the final match of the South division's first round, we finally got to see Sephiroth in action. He was an absolute lock to make the finals of his division, and all he really needed to do until he got there was to impress in each successive match to keep the whole Mario/Crono/Sephy thing going.
Fun Fact: Most people still felt that Sephiroth was stronger than Cloud (and Cloud's 2002 match against Mario certainly didn't help matters), so most people felt that Sephy would be able to handle Mario with ease if they fought. The big debate was that many people felt that Crono, if he managed to get past Mario, was able to beat Sephiroth. Hilarious.
Sephy did exactly what he was supposed to do in his first match in blowing out Raziel with ease from start to finish. Sephy didn't carry the anti factor that Cloud did, so he wasn't stuck dealing with massive amounts of anti-voting at the beginning of his polls like Cloud was. Raziel was simply a bug in comparison to the likes of Sephy, and it showed. After Raziel's loss to Strider in 2002, he was brought down to the role of fodder in 2003. Since his loss to Sephiroth, Raziel has yet to see another contest.
Yet Strider, who beat Raziel in 2002, also has yet to see another contest. Makes sense.
I remember a few people saying that Sephy was in trouble after this match, mainly because he only did slightly better against Raziel than he did Crash Bandicoot. It literally took until KOS-MOS/Samus for people to realize that Crash was dead and buried, but more on that later.
Of course, the biggest note about this match wasn't actually the match, but Slowflake. In some random topic where people were picking the final percentage for each match, Slowflake managed to nail a perfect prediction on this match.
The Oracle Challenge was born mere hours later.
Community content is available under
CC-BY-SA
unless otherwise noted.