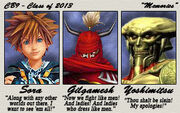 Round 2

Monday, August 26th, 2013
It's always nice to have a boring match following a crazy one, just to give time to digest. And it doesn't get any more boring than the 50-30-20 variety, where characters who pulled round 1 upsets get to meet their maker a round later. Gilgamesh and Yoshimitsu both pulled great upsets in round 1, but Sora still has strength on this site no matter how hated Kingdom Hearts gets. This was basically all about whether or not Sora had the strength to beat Pikachu + Blue, and one would assume that this match showed he had enough to do it.
Shows what we know!
Also worth noting here is Kingdom Hearts 3 was supposedly finally announced. Although as one of the last people that actually likes this stupid series, even with all the garbage Tetsuya Nomura has pulled, I'll believe Kingdom Hearts 3 when I actually see it. Nomura is that dumb with making spinoffs instead of the games people actually want.
Zen's (Late) AnalysisEdit
If one R2 match could be described with a giant yawn, it would be this one. At least Gilgamesh had a good quote and did alright here. Kind of weird seeing Sora with (what I think is) a KHIII pic back in 2013 when we still don't have the damn game in 2018. There are some worlds that haven't even been revealed yet. What is taking so long, exactly?
Really low votals here lead to Sora not even being able to break 50%. Another sad match. Perhaps the "boiled chicken breast with no seasoning" of matches. I just had to feed one of those to my girlfriend's dog. Now he's sleeping next to me on the couch and he kind of smells and is snoring. Like me after analyzing this match. I don't know where the smell is from. Kingdom Hearts fans?
Community content is available under
CC-BY-SA
unless otherwise noted.