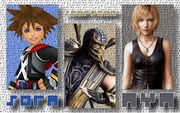 Round One

Thursday, August 1st, 2013
For a split second I thought Scorpion had a chance in this match, but then I realized this site has a hard-on for Kingdom Hearts for whatever reason. That series has two good games in it and only two: the original, and KH2. That's it. Everything beyond that is Tetsuya Nomura proving that he has no business making video games for any reason. Someone needs to just realize that Disney has become completely irrelevant to Kingdom Hearts and is shoehorned into every game now.
Oh and by the way.... https://docs.google.com/file/d/0B8cPyvE2GTjOMzE4MTVlZTctMjE5Yi00YzAzLWJjZTAtZTllODY2OTc2MTMx/edit?hl=en_US
That is the most accurate description of that abomination of a plot you'll ever find, and it'll save you from ever having to play any of the games. You're welcome. I take gifts and donations, preferably peanut butter Christmas cookies with that colored sugar sprinkled on top.
Also, are the Parasite Eve games worth playing? They're from the era when Square wasn't garbage, and I've always been curious. But they're a third person shooter, or something? Someone explain what those games are about, if you feel like it.
Recipe for Parasite Eve
-1 cup Squaresoft
-2 cups JRPG
-A tablespoon of guns and magic
-Big pinch of Quest 64 combat system

Mix together, make sure not to add extra playable characters, add to baking tray, bake for 30 minutes, let it cool, serve. -LazyKenny
I'll take this guy's word for it!
Zen's (Late) AnalysisEdit
If Sub-Zero had been in this match there might have been something to talk about, but Scorpion has been around since the beginning of contest history and there was plenty of data to show that he had absolutely no shot.
Kingdom Hearts III is finally coming out this year after two centuries in development, and even though Haley Joel Osment looks like he's one cheeseburger away from a massive heart attack, Sora will most likely be stronger than ever in this upcoming contest thanks to the continued KHIII hype train that pulls into the station every few months.
It's like Snowpiercer, the hype train just keeps going through the frozen tundra of mediocre KH spinoffs while on board Haley Joel Osment is eating babies to gain strength or something. Not sure where I was going with that metaphor. I'm one to talk I literally had three burgers and eight beers and like five babies last night at my friend's place.
Yeah this was a match that happened, Aya Brea got her time on the front page again, and some people argued she might LFF Sora because... Square Enix? OK, sure, yeah. That worked out great.
In other news Mortal Kombat XI is probably coming at some point. Did we ever revisit the idea of getting Reptile into one of these things? Or Liu Kang, Johnny Cage or Shao Kahn? There's some kind of potential there. Maybe. Probably not.
Community content is available under
CC-BY-SA
unless otherwise noted.