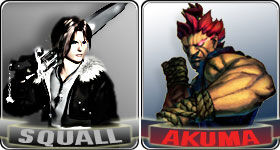 Friday, February 12th, 2010
Poll 3785
Division
Gear Division
Match #
56
Match Date
Friday, February 12th, 2010
Vote difference
25,201
Oracle
Expectations
Squall - 67.53%
106 for - 0 against
GameFAQs
Prediction
Squall - 82.51%

Akuma is probably on the M. Bison/Vega level of strength in contests, yet rarely makes the field. And when he does, his seed is bad. Street Fighter fans need to learn how to focus nominations better.
For what it's worth, Squall was expected to get 71% here based on the LOL 2007 x-stats. He ended up with 68% in a match that stayed almost exactly at 68-32 for 12 straight hours. Ergo, he "underperformed" by about the same amount relative to Auron, though this doesn't really factor in 2008 because Ngamer and ngirl have been too lazy to get those stats into the calculator. Too busy worrying about User of the Year e-cred!
Anyway, this told us very little about the Squall/Auron match.
• Previous Match       • Next Match
Community content is available under
CC-BY-SA
unless otherwise noted.