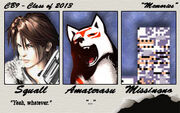 Round 2

Thursday, August 29th, 2013
The best part about this match was Missingno's quote under the picture, because as a match this wasn't much. It's probably because Sephiroth set the stage for this one back in 2010, so we kind of saw what was coming. In 2010, Missingno built a 600 vote lead on Sephiroth in the first 2 hours of a 12 hour poll, then got swamped once the Square night vote took over.
Here, he built up a lead of near 300 in an hour, but Squall was able to take over the poll pretty quickly without ever truly being threatened. Squall isn't Sephiroth, but he didn't need to be to take advantage of Missingno's prime already being past us. He probably doesn't come back on 2010 Missingno, but this was 3 years later. It ended what was supposed to be a good Missingno run a round early.
The bad part here is that it meant Squall and Vivi sharing a poll in round 3, which meant neither character was going to be able to make a deep run and Red was given a bye into the final 9. Had Missingno pulled this off, I really think Vivi could have won the division. But we'll never know!
Zen's (Late) AnalysisEdit
Super dope match pic here, props to Allen for having fun. This is his Ryu / Jill CATS pic. Or maybe Milk Nukem. Or TV Kane. Damn, CJayC loved weird match pics. I miss that dude. Ever wonder if he still stops by this board? Maybe he's one of us. Maybe he's me. Maybe that explains some of my awful experimental match pics. Maybe I'm bullshitting. I'm bullshitting.
This was the most exciting match we had gotten in a while, we knew Squall would beat Missingno, but there were plenty of non-believers. Judging by the snowball effect of these joke characters, Missingno should have grown a bit between rounds and given Squall a challenge. But he didn't.
I think the main issue with Missingno goes back to what I discussed in Round 1: A lot of people take the idea of the "Character" Battle very seriously; just as pairings in Rivalry Rumble did well in that contest but badly once split up, people actually pay attention to contest theming.
Thus all those topics where people whined that Missingno was a glitch and not a character actually meant something. Yeah, he still got joke votes, but the Pokemon fanbase barely considers him a Pokemon, and despite what your perceptions are, not everyone in the world is intimately familiar with and has nostalgia for Missingno. A ton of us do, but to most people he is as he appears: Just a weird glitch.
Leon was super stoked to see Squall win this match but he knew it was going to happen. Ammy looked alright too, I hope she's back in 2018.
Community content is available under
CC-BY-SA
unless otherwise noted.