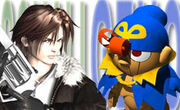 Thursday, August 11th, 2005
Poll 2089
Division
Devil Division
Match #
24
Match Date
Thursday, August 11th, 2005
Vote difference
49,390
Oracle
Expectations
Squall - 72.90%
98 for - 0 against
GameFAQs
Prediction
Squall - 89.12%
(30,116 brackets)
One day after Knuckles > Magus, we... were given a match in which everyone was still only talking about Knuckles > Magus.
Squall beating Geno was an absolute lock, and some argued that it was the only obvious match in the entire division before the contest began. The only question in the match was whether or not Squall would be able to score any decent amount of SFF in the match, and it's a question we received an answer to within seconds of the match beginning.
Geno had the lead for a few seconds, but it didn't take long for Squall to absolutely roll all over him. Geno was yet another in a long line of Square characters that made the contest with no company cap, but had absolutely no chance to do well. Personally, I would have loved to see a match between Geno and Terra.
There are two things that really get me about this match. One, if you're wondering whether or not Squall would have beaten Magus had Magus lived up to Xst expectations, I think this match proves that he would have. Squall likely SFFd Geno a little, and Geno is a side character in Super Mario RPG (released 1996). If Squall could SFF a side character from SMRPG, why couldn't he SFF a side character from Chrono Trigger. He wouldn't have needed a lot if Magus were actually what we thought he was.
Secondly, no one thought that Crono was in trouble when he failed to flat-out kill Zidane with SFF. Yet when Squall "only" triples Geno, people say that Squall has some issues. Hilarious. Reminds me of all the idiot east coast sportswriters who wrote about how vulnerable USC was after they were losing early on the road in one of the toughest stadiums to win in in the entire country.
Squall beating Geno set up a very interesting second round in the Devil Division. The favorite picks seemed to be Vincent > Dante and Squall > Knuckles, but there was some reason that Dante and Knuckles had outside chances to win; or at least, overperform based off of expectations. As for the Devil finals, it was almost impossible to call that one at this point.
Match Trends
Edit
External Links
Edit
Community content is available under
CC-BY-SA
unless otherwise noted.