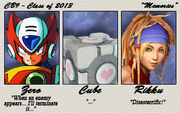 Round 2

Friday, August 30th, 2013
Mega Man fans are among the smartest out there, and most of them knew to not vote for Zero in this match. Mega Man and Zero in the same match meant a free pass for Charizard, and Mega Man fans were holding out hope of everyone's favorite little blue guy winning this division.
So, a good deal of them voted for everyone's favorite little cube instead! The fact that Weighted Companion Cube is far beyond sophomore slump status as a joke character and still almost beat Rikku anyway is hilarious. None of this made any difference in the grand scheme of the match because Zero was winning this no matter what, but still.
The Cube actually got a 200 vote lead cut all the way down to 70 before Square's evening vote took over, too. But between Cube losing here and ?-Block in round 1, Rikku was the joke slayer of this contest. Always seems to be Square in that spot, too.
Zen's (Late) AnalysisEdit
Another pretty banal match that, despite being close, wasn't much of a surprise in the end. People who still feared the joke vote were championing WCC here, but I think Missingno tanking really put a stopper in a lot of their arguments.
Zero did well here, he set the stage for a lot more people pushing for Charizard > Mega Man. WCC was a bit closer to Rikku at the beginning of the match, but I can just imagine voters rolling their eyes when they saw it on the front page again. Slowly Rikku pulled away. People were getting tired of all these jokes. It's been 5 years, how will people respond to L-Block in 2018? Has the meme made a comeback?
Rikku looked good in her two appearances here. Is she the strongest non-main, non-villain, non-love interest FF character outside of Auron? Someone needs to tier all FF characters that have ever appeared in a contest.
Community content is available under
CC-BY-SA
unless otherwise noted.