Thursday, March 11th, 2010
Poll 3839
Round
Gear Division Semifinal
Match #
110
Match Date
Thursday, March 11th, 2010
Vote difference
2,430
Oracle
Expectations
Squall - 51.83%
71 for - 17 against
GameFAQs
Prediction
Squall - 36.82%

In the stats topic, this has been a debated match for years. We always want to see 1v1 matches between near-elites and in this contest we got one of the best. Squall vs Auron has been discussed and dissected every which way for ages, and it's nice we got to see it happen. Need more bracket setups like this.
That said, this probably shouldn't have been all that debated. Look at it just in terms of 1v1s. On pure results, Squall = Vincent > Ganondorf > Auron. No extrapolation needed, we've seen those matches before and Squall/Auron are on opposite ends. There's no real reason to believe anything has changed much since these matches took place, either.
So that leaves Auron's trump card, the win over Sonic in the 4ways. Had Sonic not gotten a mid-contest Brawl announcement in 2007, Squall would have beaten him twice that year. It's not like Auron has something Squall himself couldn't have reproduced. Squall can even counter Auron's random Kingdom Hearts 2 appearance.
It all added up to a close Squall win, which is exactly what we ended up with. Squall took a 100 vote lead in 15 minutes, then spent the next 10 minutes getting rocked before putting the match completely away. The final percentage may be 52-48, but this was one of those never-in-doubt close matches. Barring Final Fantasy X-0 (why doesn't this game exist?), Auron will probably never boost enough independently of Squall to turn this around. Auron's still a near-elite, he's just not at Squall's level. Few people are.
Know what we need? (3)Luigi vs (2)Auron to complete the circle.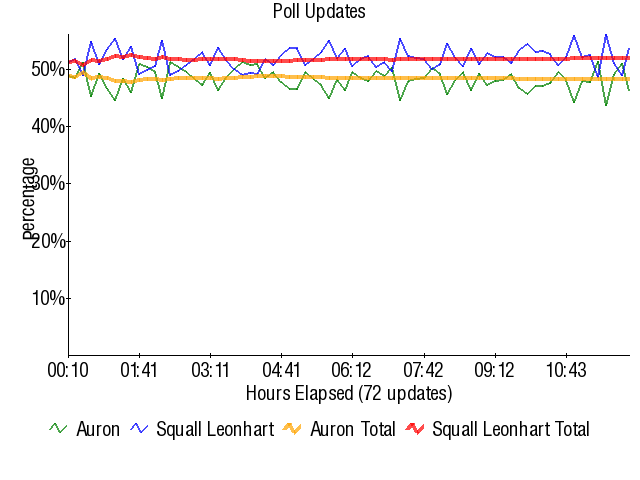 • Previous Match       • Next Match
Community content is available under
CC-BY-SA
unless otherwise noted.