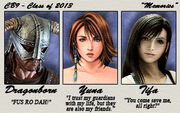 Round 2

Wednesday, August 28th, 2013
Pre-contest, Dragonborn had a ton of hype. He had an easy match in round 1, then potential Tifa/Yuna overlap in round 2, and then who knows! But then he completely crapped the bed in round 1, and everyone knew his run was over even with the overlap here. Pikachu > Crono + Magus, this was not.
The fact that Yuna only finished 1500 votes behind Dragonborn even with Tifa in the poll really tells the story by itself: Dragonborn was a complete flop in this contest. And even then, I wouldn't be fooled into thinking Skyrim wouldn't be just a complete monster of a game in any potential games contest down the line.
Take Skyrim and put it in Game of the Decade in place of Majora's Mask. Doesn't it just win that contest outright? Or at least make the finals?
Zen's (Late) AnalysisEdit
I think Dragonborn's picture here is a statue. Woo. Yeah. We did it guys. Again.
There was some residual DOVAHFEAR here, and I remember some lunatics took Dragonborn > Tifa > Yuna, but they were not only overestimating Dragonborn by a large margin but also the effects of LFF. Tifa and Yuna both did well here. In 2018, a Yuna vs Dragonborn 1v1 might be entertaining to watch, but probably not. Skyrim is strong on this site, but Dragonborn would need to somehow reflect every player's personal Dragonborn for him/her to stand a chance.
Community content is available under
CC-BY-SA
unless otherwise noted.