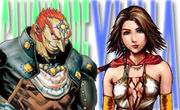 Monday, July 25th, 2005
Poll 2072
Division
Zebes Division
Match #
07
Match Date
Monday, July 25th, 2005
Vote difference
23,973
Oracle
Expectations
Ganondorf - 64.66%
105 for - 0 against
GameFAQs
Prediction
Ganondorf - 86.55%
(29,248 brackets)
Before anything else, we need to discuss that prediction percentage. If that isn't proof of a Spring 2005 carry-over, I don't know what is. Here we had a first round 3/6 Nintendo/Square match between two strong characters, and Ganon had over 85% of people pick him? People definitely took notice of Ganon breaking 40% on Sephiroth a few months back.
Going into this match, Ganon was a lock to win. However, this wasn't about whether or not Ganon would win; it was about whether or not Ganon could take down Auron. Ganon/Auron was a hyped match thanks to people who didn't feel like buying into the Spring 2005 stats (and because it's SO OBVIOUS that Tidus/Ganon 2003 was Tidus's true strength despite him doing jack squat outside of that one match, I might add; don't you love it when people only take into account a character's best performance?), so Ganon had to go out and prove a point in this match.
Did Ganon wind up proving doubters wrong? Well, that depends. Sure he won the match with ease (and on a side note, TRE pointed out so many examples of blatant cheating coming from Yuna's direction that it got to the level of being downright hilarious; go look at the updater for this match, click on "Time" and see for yourself), but to some, Ganon underperformed. I'd argue that FFX-2 increased Yuna's hypothetical strength, but FFX-2.... isn't well-liked, to say the least. Not too many people want to believe that FFX-2 may have actually produced strong characters, but given what happened in the spring, it's a bit hard to deny. Ganon MAY be overrated a little, but I highly doubt it.
Regardless, plug Yuna into the 2004 stats using this match. You get a value of 26.94%, which isn't as far-fetched as Ganon's doubters would lead you to believe. The catch is that Yuna is pretty close to Tidus after doing that, but given that she's the lead in a recent large-scale Square title, I'm willing to buy it. It's better than assuming that Ganon underperformed for the sake of trying to make a case for Auron beating him, at least.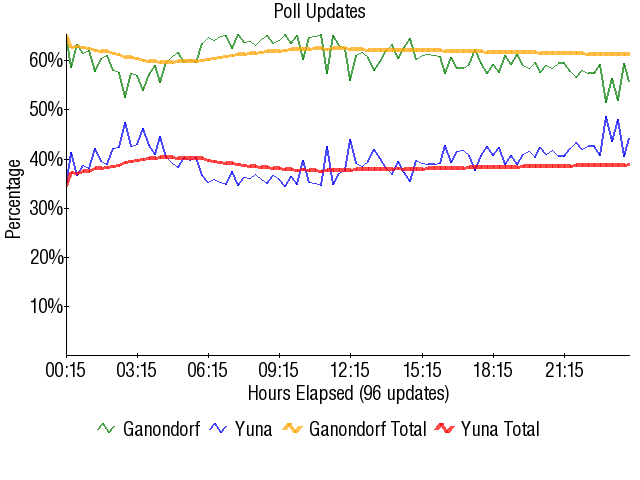 Community content is available under
CC-BY-SA
unless otherwise noted.