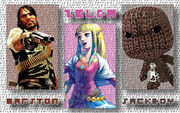 Round One

Friday, August 16th, 2013
Not much to say about this match, since Zelda winning was never going to be in doubt. It was nice to see her recover after the awkward 2010 however, and she was en route to having a good contest after this match. She would only last two rounds, but helped expose Charizard a bit after beating up two garbage casualbait characters. This was Marston's first contest, and hopefully his last.
And I'm sure I don't "get it" or whatever, but I don't understand the Little Big Planet love at all. I played it, and it was nothing more than bad platforming with bad handling mixed with bad "enjoy our artwork". Some genres just don't mix, and platforming plus all that side crap is a nice example.
Zen's (Late) AnalysisEdit
Zelda got to stomp not one, but two Western Franchise Mascots! Wow!! She even did it with a pic from Skyward Sword, the one nobody likes. Next contest she is going to be even stronger with her sassy new Smash appearance.
I can't believe Sackboy has been in three contests and even has a win under his belt in Kratos Aurion. What world do we live in? Do people like his games that much? I had two of them and they're... alright, I guess. I think Sony retired the franchise after the third one sold like shit and the devs demoing it at E3 couldn't even beat their demo level. Why do we still have live E3 events anyway?]
As for Marston, he's another overrated Western character (literally!) but nobody thought he could actually beat Zelda. I do remember some whiners coming to the board, that game has some seriously defensive fans. Defensive of this:
https://www.youtube.com/watch?v=jVVXyKP1FVk
I have two friends from college (one of them is the one I gave the Teemo mushroom to) who got jobs at Rockstar and are currently working on RDR2. They do the animation cleanup on the mocap. My one friend was telling me how they work like 60-70 hour weeks right now but there's a masseuse on-staff and lunch is free so that sounds pretty sweet.
He asserts that RDR2 is going to be the greatest game of all time, but I really doubt that. I wouldn't say that to his face, though. If you're playing RDR2 and you think the cutscene animation is good, pour one out for Zen's friend and the free masseuse.
Community content is available under
CC-BY-SA
unless otherwise noted.