Saturday, January 30th, 2010
Poll 3758
Division
Heart Division
Match #
29
Match Date
Saturday, January 30th, 2010
Vote difference
14,473
Oracle
Expectations
L-Block - 63.23%
108 for - 3 against
GameFAQs
Prediction
L-Block - 73.48%

A lot of sentiment flew around this contest about how Winter 2010 would be the death of joke characters, including Ngamer64 picking the HK-47 > L-Block upset on the contest podcast. This sentiment was only half right, and only for a few characters. This contest wasn't the death of joke characters (just look at how Missingno did), but it did symbolize a lot of the 4way bandwagons becoming transitive.
L-Block once built an 825 vote lead on Link in 5 minutes. 3 years later, he proved to be quite mortal and transitive, and in a way he got very lucky to be thrown into a terribly weak fourpack of characters. HK-47, Isaac and Professor Layton isn't exactly murderer's row, and very few people thought L-Block could get past Charizard or Kratos.
Not only did L-Block come back down to earth this contest, but he even lost his trademark joke trend. He began this match at 66%, and only fell a little bit from there. Not exactly an overpowering win fitting for a former champion. L-Block will likely always make the field, maybe even with high seeds, but he'll never again be what he was.
Match Trends
Edit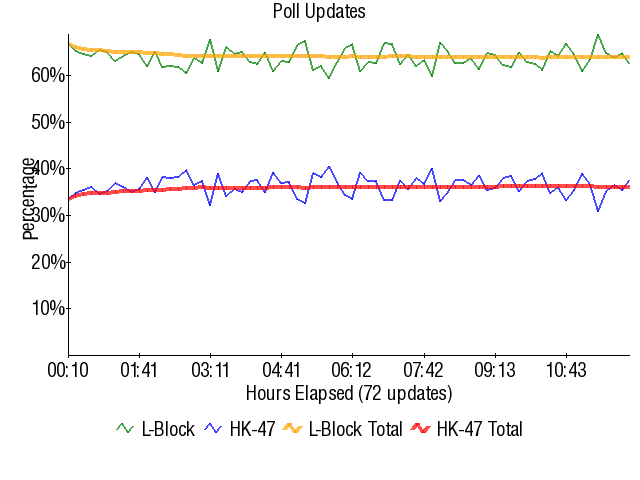 External Links
Edit
• Previous Match       • Next Match
Community content is available under
CC-BY-SA
unless otherwise noted.