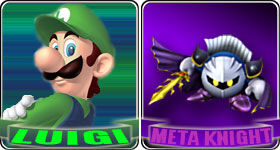 Round One

Monday, January 18th, 2010
Poll 3734
Division
Hyrule Division
Match #
05
Match Date
Monday, January 18th, 2010
Vote difference
17,388
Oracle
Expectations
Luigi - 65.52%
114 for - 1 against
GameFAQs
Prediction
Luigi - 76.19%

Congrats, Meta Knight. Your reward for winning first place your vote-in by 1200 votes and being the S tier in Brawl is…. getting fed to Luigi. Meta Knight is strong enough to make a decent run in one of these things, but he always get stuffed into Nintendo matches. 2007 round 1, he gets stuck with Peach, but wins. Then in round 2, he gets to deal with Fox and Wario. 2008, he gets stuck against L-Block and the Duck Hunt Dog in the first round. And then this year. Boom, Luigi. Instant death.
Meta Knight is a Captain Falcon in waiting. Good strength, never gets to show it because all his matches are Nintendo SFF-fests. The match itself here was very mundane, though some contest noobs kept arguing about how Meta Knight was actually really strong and wasn't actually getting SFFd or something (even though lower vote totals always indicate SFF is going on). One guy in particular who won't be named spammed the stats topic about this crap for a month until people finally realized never to take him seriously.
Luigi is a beast and rightfully deserves praise for how good he always does, but Meta could have easily repeated Falcon's performance in his place. Looking forward to the inevitable (5)Pikachu vs (12)Meta Knight match next year.
• Previous Match       • Next Match
Community content is available under
CC-BY-SA
unless otherwise noted.