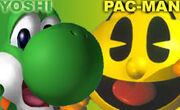 Sunday, September 4th, 2005
Poll 2113
Round
20XX Division Semi Final
Match #
48
Match Date
Sunday, September 4th, 2005
Vote difference
38,484
Oracle
Expectations
Yoshi - 66.05%
80 for - 0 against
GameFAQs
Prediction
Yoshi - 47.07%
(15,906 brackets)
One barely needs to analyse this match to assume why it happened the way it did. The only thing Yoshi really needed to worry about to avoid being embarrassed was to outdo Luigi's performance on Pac Man last year, and some people were actually fearing that Yoshi would not be able to pull it off for whatever reason. Something about Luigi's true strength having always been hidden and Yoshi rSFFing him in 2004 or some such nonsense. On another note, this was one of the most consistent (see also: boring) matches of all time. Yoshi's highest percentage caught by the updater was 73.26%, and his lowest 69.77%. I'm not sure if this small range is a record, but maybe someone like TRE feels like wasting the free time to confirm <_<
I do however wonder about the casual bracketmaker sometimes. There are cases where they whip the board's ass (Tidus/Shadow, Magus/Knuckles, and Mario's 2005 run just to name a few good cases), yet there are matches like this in which you just have to scratch your head. Yoshi was a lock to win this fourpack, yet despite him likely being the bracket favorite less than half had him advancing this far. It doesn't make any sense, and I only have two assumptions to explain it.
While the X-Stats may be more mainstream than we think, casuals love to pick based on seeding. The ultimate example of this is Halo, though I'm sure there are plenty of others. Ridley, Kuja, and virtually every 3 seed bust are perfect examples of casual overestimation, and it's funny given how good they are at exposing the board every now and then. Kirby > Tidus is another great example.
After Pac Man's hilarious upset of Ocelot, his reward was to prove that Yoshi was in fact stronger than Luigi and that there was no rSFF in the 2004 match between the two. And if there was, it did little more than cause Luigi to overperform. Though if you glance over at the stats for this contest, look who is ahead of who. Hmmm.
Maybe there was indeed rSFF in that match, who knows.
Match Trends
Edit
External Links
Edit
Community content is available under
CC-BY-SA
unless otherwise noted.