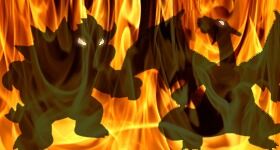 Sunday, March 14th, 2010
Poll 3845
Round
Heart Division Final
Match #
116
Match Date
Sunday, March 14th, 2010
Vote difference
7,898
Oracle
Expectations
Charizard - 47.70%
12 for - 68 against
GameFAQs
Prediction
Charizard - 3.17%

First and foremost, this match had by far the best set of pictures of any freeform match. It's difficult to get much more badass than Bowser vs Charizard, and the picsmiths followed suit. Only one pic (that one with the fire ring in the background) seemed odd, but who cares. It's Bowser and Charizard.
Now it took eight years' worth of contests, but we finally have a match that rivals Mario vs Cloud 2002 for perfect release date timing. As everyone knows, Super Mario Sunshine came out on the very day of that match. The timing of something like this is insane, but Mario didn't care and parlayed it to one of the most miraculous wins ever.
Charizard's upset of Bowser wasn't two gaming titans in a brand new contest pulling off a classic match or anything, but it's equally perfect release date timing. Pokemon HeartGold/SoulSilver launched on the day of this match, and had set in by the time this match came around. Remember, this match started at noon. A ton of people were playing the game and looking for help before then.
On a normal day, Bowser probably beats Charizard easily. Maybe he even SFFs him. If this match took place next year, Bowser could break 55%. But HGSS day was anything but a "normal day". This thing was even for about a minute, but then Charizard totally took off. The match was never in doubt after that, which was the biggest shock of all. Bowser was never in this thing, to the point where ended up doing worse than Kratos. Bowser losing in a Pokefad bandwagon contest on HGSS is acceptable. It would have happened to a lot of characters. But rolling over like a turtle and being unable to get up afterwards looks really bad for him.
The circumstances around this upset were amazing. HGSS launching on match day is insane enough, but Charizard even getting here was a massive longshot. Only L-Block winning the 2007 contest had prediction percentages lower than Charizard winning the Heart division. It would be the one division all contest the 1 seed failed to win.
All we were missing here was a Bulbapedia link circa PlanetGamecube's 2002 stunt.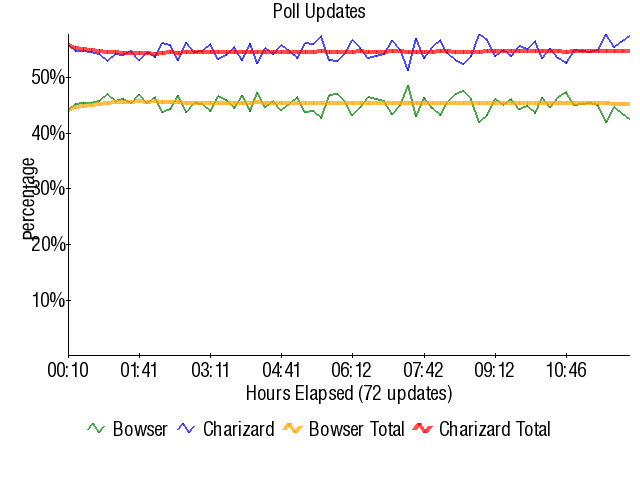 • Previous Match       • Next Match
Community content is available under
CC-BY-SA
unless otherwise noted.