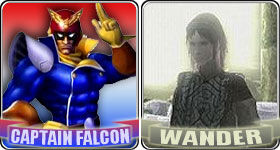 Saturday, February 6th, 2010
Poll 3773
Division
Midgar Division
Match #
44
Match Date
Saturday, February 6th, 2010
Vote difference
27,908
Oracle
Expectations
Captain Falcon - 69.82%
107 for - 0 against
GameFAQs
Prediction
Captain Falcon - 53.09%

According to Bacon, Revolver Ocelot got the fewest nominations of the auto-bids. Yet Ocelot was seeded higher than Wander? We could have slapped this loser trash into a vote-in poll and kept him out of the field, but didn't? Wander is the main character of the single worst game ever made. No exemptions or mercy; get this garbage out of here.
Actually on better thought, let Shadow of the Framerate trash in every contest. It's fun seeing how badly it embarrasses itself annually, plus it's fun seeing how people still try to defend that game. Yes, it was influential. Everyone wanted giant bosses after that game came out. It's also "influential" in the same way lack of waste disposal systems in Victorian-era cities were influential -- but you don't read books about fecal matter lining the streets being the best thing ever. On the contrary, fleas picked up the black plague from raw sewage, infected local rats and ended up killing off half of Europe.
And that's what Shadow of the Framerate is: gaming's black plague. Go. The. Hell. Away. Watching Captain Falcon completely destroy this idiot was very pleasing. Some will say he moved on to bigger and better things this contest. I say nothing is bigger or better than crushing Shadow of the Overrated.
If we ever got (7)Wander vs (10)Guybrush Threepwood, I just might drive off a bridge.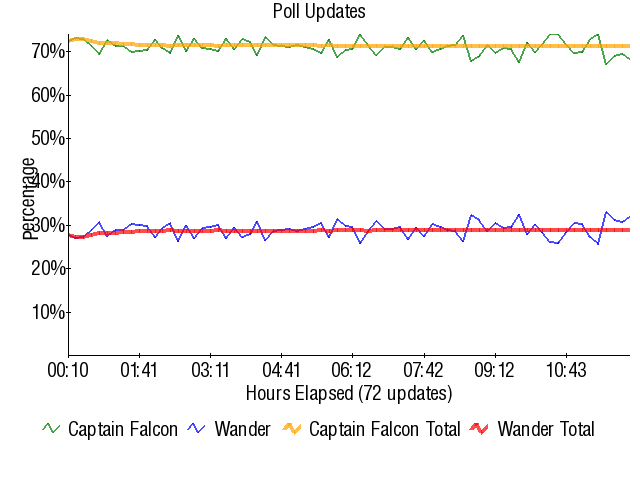 • Previous Match       • Next Match
Community content is available under
CC-BY-SA
unless otherwise noted.