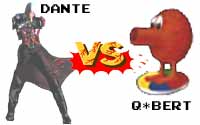 Friday, July 12th, 2002
Poll 951
Division
East Division
Match #
12
Match Date
Friday, July 12th, 2002
Vote difference
23,292
GameFAQs
Prediction
Dante - 74.49%
(12,487 brackets)
Q*Bert had absolutely no chance of winning this match, and most people on the board knew this coming in. I think I saw one people admit to picking him, and that guy was simply an old-school gamer who had no idea who Dante was.
This match was all about how well Dante would stack up to Crono in the second round, because no sooner did Crono's match end did the Crono/Dante hype start piling up. And after Dante's expected thrashing of Q*Bert was over, there was no reason to believe that we weren't in for an epic in the second round. Both Crono and Dante had similar odds of winning the contest and similar prediction percentages. Crono may have had an advantage both in total votes (in his poll) and direct votes (for himself), but at the time, this didn't matter. 2002 wasn't a contest where you could pinpoint percentages with Xsts, so to the board, Crono/Dante looked like it would be quite the epic after the two characters were done dispatching their first round opponents in similar fashion.
Yeah, Crono/Dante was massively hyped. Sounds odd, doesn't it?
Community content is available under
CC-BY-SA
unless otherwise noted.