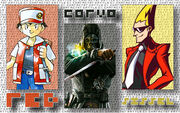 Round One

Monday, August 12th, 2013
This match proved two things, the first of which is very obvious. Red is a BEAST. A lot of people, myself included, doubted him after the 2010 performance. We were idiots. I don't care how weak your competition is, if you break 70% in a multi-way poll, you're a strong character.
The other thing is that 243 characters was waaaaaaay too many. Forget last place, our second place character in this poll scored 4854 votes.
For reference, Adventure scored 4686 votes against The Legend of Zelda in 2004, and that record for futility stood for a long time. Now? You can be comparable to that and get second place. So bad. I know round 1 has always been for weeding out fodder trash, but this year was especially awful with it.
Zen's (Late) AnalysisEdit
I lead the Corvo nomination rally and I was psyched as all hell when Allen revealed the 15 seeds and there he was. I had been starting to doubt he would get in, I didn't have much support at the time. I know someone asked for "handsome characters to nominate" at one point and I posted a bunch of yaoi of unmasked Corvo and the Outsider kissing and he loved it. You have to be willing to do anything for a nomination rally. Like analyze an entire contest to drum up interest for Metal Sonic.
I want to really quickly add that Dishonored 2 ruined Corvo by giving him a voice and character, he was so much cooler as a Gordon Freeman analogue. I ended up not finishing Dishonored 2, D1 was a much tighter, cleaner, more appealing package to me. We're probably not going to see Corvo ever again, so I guess having a win, albeit a small one, under his belt is good enough for his fans.
Pokemon Trainer Red absolutely crushed it here, and how could he not with a match pic like that? My entire childhood is contained within his pic. Holy shit what a pic advantage. It's not even fair. We should put a paper bag on Red's head.
The entire debate here was over second place. Sissel was from the nichest-of-niche games, but Corvo was another "western darling." The thing is that Dishonored, despite appearances, is anime as all hell and had a much more niche, weird fanbase than the other western characters (hence the Yaoi), so he was able to win pretty handily here.
It's very strange to consider Missile the definitive Ghost Trick representative but you take what you can get.
I wouldn't have it any other way.
the girlfriend wants me to add that she thinks Ghost Dad would be better in a contest than Ghost Trick?? uuuuuhhhh uuuuuuuuuhhhhhh
Community content is available under
CC-BY-SA
unless otherwise noted.